---
Heres a photo of my lovely injury I aquired last night...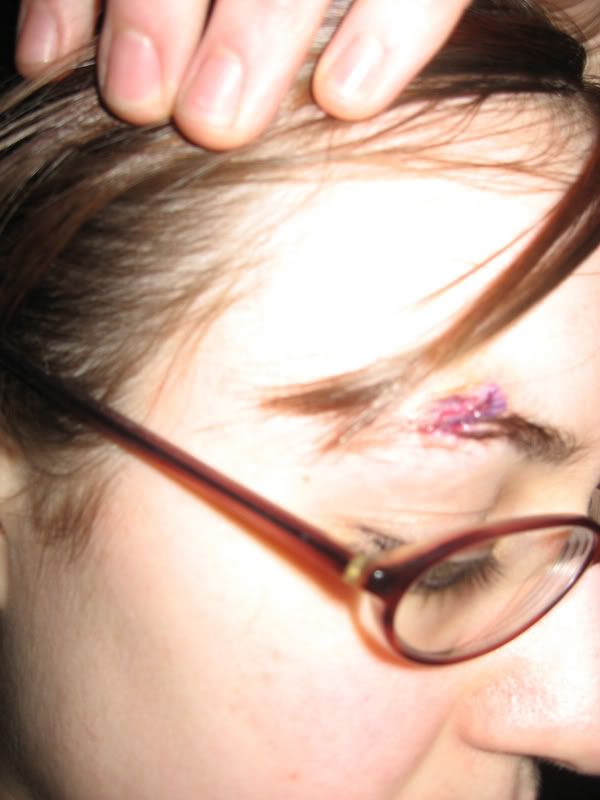 Let me explain how this happened. I was in Taekwondo, and theres a kid testing so I was asked to hold a board for one of his breaks. He was doing a back kick on my board(which you hold out in front of face). When he broke the board a piece of it flew at me at put a nice deep gash across my right eyebrow.
At first I wasn't sure what happened, then blood was literally pouring down my face. I ran to the bathroom and another women came in to help me, she pressed a paper towel to it untill it stopped bleeding. My instructor then put some iodine from a Q-tip on it, then a band aid. He found some cut adheisive and put that on after, which is also suppose to help prevent scarring.
So now it looks pretty gross. It has brown stuff from the iodine, and blueish/purple stuff from the glue, plus the already reddness. I'm not allowed to spar untill it heals now, which really sucks because I have a fight in two weeks at the Arnold Classic. Hopefully it'll be healed by then.
I probebly could've used stitches, but that glue seemed to work. My TKD instructor gave me more in case it starts bleeding again.