| | |
| --- | --- |
| Excessum | 01-04-2008 08:19 PM |
---
How to enable Japanese characters on your PC

Ok, since recently there have been too many people asking the same question, i decided to write a little guide to help people with this problem.
At this point i can cover only Windows XP, since i haven't got a windows Vista anywhere near me and currently i am not using any Linux systems, but i hope this thread will be updated with the information on all of the most popular Operational systems.
Windows XP
To enable Japanese characters, you must have your Windows XP CD inserted in your CD-ROM and you must have administrator rights to your PC.
Afterwards, it's all peace of cake
Go to
Start
→
Control panel

Launch
Regional and Language Options
Note: if you don't see the icons as in picture below, click on the link on the left side of the control panel window, that says Switch to Classic View
Select the second tab
Languages
→ put a tick on
Install files for East Asian Languages
→ press
Apply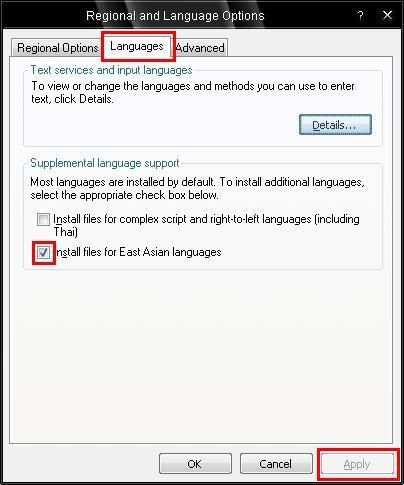 Now all you have to do, is to watch the progress bar fill up and restart your PC
Note: In case it asks you for the files after your CD has been inserted, just show the right path to the CD drive.
----------
ALSO
there are tutorial videos available. Both in
English
and
German
.